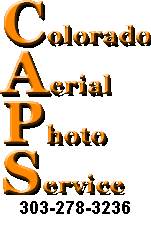 Home - Coverage - Prices
How to Order - Office & Location
Color Photography - Stereo Photography
FAQ - Posters - About Us

Colorado Aerial Photo Service is the premier source of historical aerial photographs in Colorado with a film archive and images from 1937 to the present in some areas. WE NO LONGER DO CUSTOM FLIGHTS. IF YOU NEED AERIAL IMAGERY OF A PROJECT OR AREA YOU ARE WELCOME TO CALL US AND WE CAN REFER YOU TO COMPANIES IN THE LOCAL AREA THAT CAN GIVE YOU A QUOTE ON A CUSTOM AERIAL PHOTO FLIGHT. What we CAN do for you is provide historic aerial images from the past for research. GIVE US A CALL and use our ONLINE SEARCH DATA by clicking on the "Search our photo database" box.